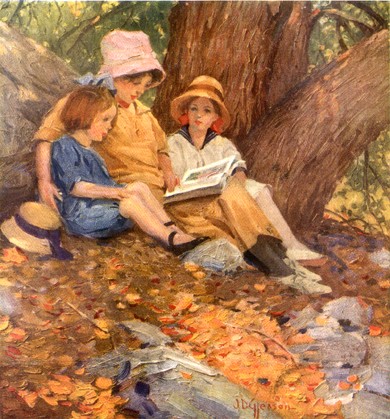 Over the past year, I've heard the name "
McGuffey's Readers
" floating through the air as I read
blogs
and interacted with other homeschooling moms online. I knew they were published a long time ago (1879 for the revised editions), I knew that they were once used in One-Room school houses across America, and I knew they were a non-consumable resource that could be used from learning to read through the high school level, all of which appealed to me.
They are available to view online
for free
, and had I been ambitious enough, I could have printed them for myself! After looking them over for a few weeks, I came to the conclusion that they would be a good investment for our family and instead of placing an order for the consumable workbooks for LA that I originally planned on purchasing, I purchased our very own set of
McGuffey's Eclectic Readers
&
Spelling Book
, revised editions. Once they arrived, I spent a week looking them over, doing more researching online to learn even more about how others have used them. I took the knowledge that I gained, my own personal philosophies and outlined my simple plan for each of my students (there currently are three who will use these).
To be continued.... :)